Local Attractions
Recently rethatched, the exact age of fritton church is unknown. However its Saxon architecural features and strong links with King Canute indicate an age in excess of nine hundred years and it may have royal connections.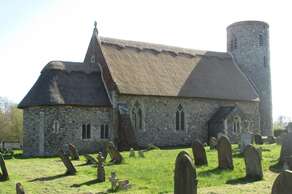 Caldecott Hall Golf Club - Fritton
Caldecott Hall is a popular venue with a range of good facilities which offer a pleasant day out to members and visitors. As well as the 18 hole golf course, there's an interesting par three course which demands the use of a range of clubs. The golf course is configured as two loops of nine holes eminating from the clubhouse and is inviting with views from the first tee over much of the opening nine holes which is set on undulating land. The clubhouse is converted 18th century Grade II listed barn and has adjoining changing rooms with oak lockers. The resident professional is on hand for individual or group tuition whilst the Pro Shop is competitively equipped for all your needs.
We are located on the Angles Way walking route. To the south (4.5 miles/2 hours) you can stroll between Fritton and Somerleyton, on country roads, woodland paths and farmland tracks, passing flint built, thatched churches and the stunning Somerleyton Hall along the way. The Dukes Head in Somerleyton village makes an excellent finishing point.Alternately to the north (4.5 miles/2 hours), you can enjoy views of reed choked marshes and mills, finishing beside the River Yare and the impressive Roman fortress at Burgh Castle.A free pick up service is available for the tired and weary.
Take a leisurely boat ride from our local boat yard, 800 yards down the hill next to the bridge in St Olaves. Cruise the River Waveney or River Yare, and stop off for a well deserved lunch at Reedham, Somerleyton, Oulton Broad or Beccles. Guidance is given by friendly boatyard staff.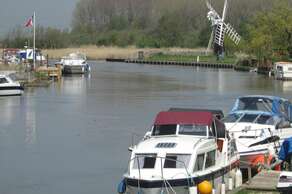 Redwings Caldecott Horse Sanctuary
On the other side of the village you will find Redwing Caldecott Horse Sanctuary. Largest of the Redwing visitor centres, it is currently home to almost 120 horses, ponies, donkeys, and mules. Winner of various tourist awards and complete with gift shop, picnic area and cafe, you can be assured of a warm welcome. Disabled access, parking and toilets. Open Friday, Saturday, Sunday and Monday from10.00am until 4.00pm.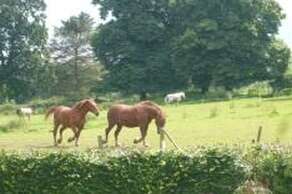 Three hundred yards away in the Fritton Garden Center and flea market (good place for a bargain) is the Fritton Owl Sanctuary, a charity that provides shelter for injured and unwanted native owls. Rehabilitatingand releasing these beautiful birds back into the wild. Contact Mark or Louise on 07951786069
Set in an 5000 acre estate Somerleyton Hall is widely acclaimed as one of the most beautiful and well preserved stately homes in Britain. Open to the public April to September this Tudor period Mansion and pleasure gardens complete with maze, plays host to events throughout the summer.
Just a five minute drive away, this 17th century wedding venue has a par three golf course, putting greens, driving range, tennis courts, indoor bowls, a'la carte restaurant, bar and carvery, all in beautiful surroundings. Something for everyone.